ADVANCED STUDIES IN EXPERIMENTAL STITCH 301
---
Certificate Course, Level 3
Starts: 29 April 2016
Class Name: Shellflowers
Tutor: Gail Harker
Course Brochure: L3 Stitch -Shellflowers
Status: Enrollment Closed
This course focuses on using knowledge and skills acquired during level 1 and 2 Stitch and level 3 Art and Design courses. Students will add to the samples made in the level 1 and 2 courses, create innovative new art pieces, generate design and inspirational research from a wide variety of historical and contemporary sources and develop structured working and documentation methods. Advanced assessments will include a wall hanging, or panel, a stitched multi media bookcover and interior content, a portfolio of samples, and a 3-D item.
To register for this course online, simply add this course to your shopping cart.
For course levels 2 through 4: please send us a signed registration form (last page of the course brochure) even if you elect to register online.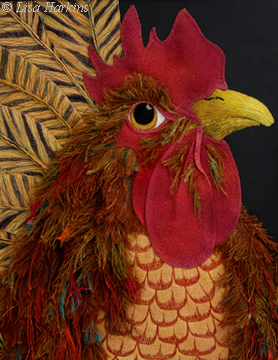 Payment plans are available.  Please refer to the course brochure to see your payment options.
$3,995.00
$300.00 (For Deposit Only)
Cart opens to secure online payments through PayPal.  Credit Card payments do NOT require a PayPal account.  To check out as a Guest (no PayPal account), after you add your course to the cart, click the words "Check Out" under the Yellow PayPal button.