STUDIES IN DESIGN & EXPERIMENTAL MACHINE STITCH LEVEL 2
---
Tutor: Gail Harker
Starts: 20-23 November, 2019.  This class will be held over five 4-day sessions, covering a one year period.
Class Name: Saffron
Course Brochure (to be updated soon! )
Studies in Design and Experimental Machine Stitch is a Level 2 Course that takes the level 1 student to a higher level of confidence and achievement. The focus of this course will be to translate original designs into stitched art through a myriad of sewing machine techniques.  Gail will assist students with their designs, machines and techniques and will demonstrate the use of color and preparation of the fabric ready for stitching. A variety of stitch, paper, fabrics and threads will be used. Subjects explored may include people, animals, flowers, plant forms, landscapes and patterns. You may have a topic you would like to work with. Anyone who has studied Level 1 Experimental Machine Stitch may register for this course.
Starting 20 November 2019
To register for this course online, simply add this course to your shopping cart.
For mail-in registration, print the Registration Form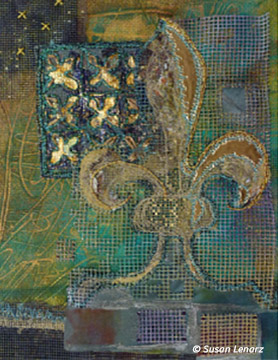 Payment plans are available.  Please refer to the course brochure to see your payment options.
$2,500.00
Cart opens to secure online payments through PayPal.  Credit Card payments do NOT require a PayPal account.  To check out as a Guest (no PayPal account), after you add your course to the cart, click the words "Check Out" under the Yellow PayPal button.